As a Marlite®APP Partner, Mattison Martinoli Inc. is a great place to get your Marlite® Application products.
Our office personnel can assist you with quotes on material, suggesting a product that fits your vision, creating shop drawings, and answering questions about installation.
Mattison Martinoli Inc. can also order, deliver, and install at your location.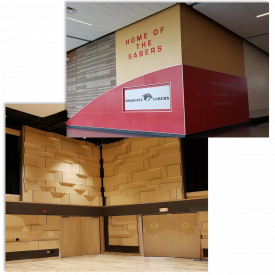 Marlite® Transforming Wall System®
Virtually endless finish options—including graphics
Depth variations of up to 2-1/2 inches
Replace panels without damaging adjacent panels
Create custom reveals for eye-catching results
Marlite® Artizan™ Digitally Printed FRP
4'x8′ or 4'x10′ Fiberglass Reinforced Plastic (FRP) panels that are digitally printed with your design.
Marlite® Sieva™ Large Panel Wall System
When you're designing a space to impress, inspire, and last, specify Marlite® Sieva™. Our large-panel interior wall system for high-traffic areas blends the sophisticated look of architectural woodwork with the durability of high-pressure laminate (HPL) and medium density fiberboard (MDF)—all at a cost-effective price.
Sieva is now available with our Signature Wood Veneer, the highest premium grade of real wood veneer and rated AA in accordance with the Decorative Hardwoods Association (formerly HPVA®) standards. With our dependable, premium finishing process, you can choose from:
Select, premium quality veneers
Custom staining
Custom finish options
From subtle to bold and solid colors to abstracts, we can customize these wall panels to virtually any specifications.
Marlite®Symmetrix™ SmartSeam FRP
Symmetrix SmartSeam FRP tile panels bring vibrancy to any space and are the ideal solution for covering old or damaged ceramic tile. Initially a smooth FRP panel, Symmetrix is physically grooved with state-of-the-art CNC equipment to emulate the look and depth of tile with grout. Whether you're planning a new construction or a commercial retrofit, these faux tile panels are:
Ultra thin (3/32″) and easily install over nearly any surface in hours, not days.
Sealed with a durable, proprietary sani-coat for unmatched resistance to stains, mold, and mildew.
Simple to clean and maintain.
Crack and impact resistant.
Available in 4'x4' or 4'x8' tile boards and custom patterns.
Marlite®Induro™ HPL-Faced FRP
High Pressure Laminate (HPL) thermally bonded to an FRP core in 47-1/2" x 95-1/2" panels to provide unbeatable durability and at just 3/32" thick, panels are incredibly thin and easy to install.
Marlite®Volta™ Dimensional Flex Sheets
Volta Flex Panels are lightweight thermoplastic sheets available in a wide variety of patterns and finishes. The flexible sheets can be rolled for shipping yet are completely rigid when laminated. Volta Flex is an economical way to bring unique design to vertical spaces.​